A holiday gift to readers
Once Upon a Winter's Eve, a Spindle Cove novella, is free in ebook for a limited time. If you've never read the Spindle Cove series, consider this your invitation to give it a try! Or if you have romance-reading friends, pass along the link and share the Regency love. Get it for Kindle, Nook, Kobo, Apple iBooks, and more.
Dukes in Audiobook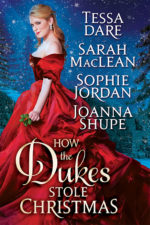 By reader demand, How the Dukes Stole Christmas is now available as an audiobook, narrated by the wonderful Justine Eyre. The perfect listen while you wrap gifts or bake cookies. Find it on Audible, Apple iTunes, or wherever you listen to audiobooks.
Book three in the Girl Meets Duke series is already available for preorder on Kindle, Nook, Kobo, and more. And the book description has been revealed:
They call him the Duke of Ruin.
To her, he's just the beast next door.

Wealthy and ruthless, Gabriel Duke clawed his way from the lowliest slums to the pinnacle of high society—and now he wants to get even.

Loyal and passionate, Lady Penelope Campion never met a lost or wounded creature she wouldn't take into her home and her heart.

When her imposing—and attractive—new neighbor demands she clear out the rescued animals, Penny sets him a challenge. She will part with her precious charges, if he can find them loving homes.

Done, Gabriel says. How
…
Read More »