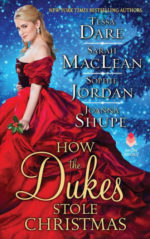 Just in time for the holiday season, How the Dukes Stole Christmas is now available as a mass-market paperback!
Christmas magic is in the air… From the ballrooms of London, to abandoned Scottish castles, to the snowy streets of Gilded Age New York, four bestselling authors whip up some unforgettable romance…with a little help from some enchanted shortbread.
This is a re-release of a collection published in digital format last year, so before purchasing as an ebook, you might check your e-reader to make sure you don't already have it. Sarah, Sophie, Joanna and I are thrilled that our holiday romance collection is now available for readers to find in their local stores. If you missed it, now's your chance to catch up! And might I suggest that the paperback would make an excellent stocking stuffer or hostess gift for the holidays?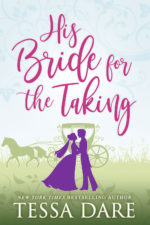 His Bride for the Taking, a Regency romcom novella, is now available on its own!
It's the first rule of friendship among gentlemen: Don't even think about touching your best friend's sister.
This novella was originally published in my 2018 duet with Christi Caldwell, Rogues Rush In. So again, check your e-reader first – but if you missed it last year, here's your chance. This little historical romp isn't linked to a series, so if you're introducing a friend to my books, it makes an excellent entry point. His Bride for the Taking is now available widely as an ebook, and a print edition will soon be … Read More »