Events and Appearances
I'd love to see you at one of my upcoming events!
2019
Decatur Book Festival (Georgia) Aug 30-Sept 1

Love in the Time of Feminism: Romance Novelists Fight the Patriarchy
Join New York Times Bestselling authors, Tessa Dare and Sarah MacLean, as they discuss how the historical romance genre is being reborn in a way that enables powerful conversations that can change the world. Come for a lively discussion with these two word warriors, as they speak to the subversive power of romance to fight classism, racism, and gender politics and why sexy books are more relevant now than ever.
Historic DeKalb Courthouse presented by Creative Flame Media
Sat 12:30-1:15p Courthouse
HISTORICAL ROMANCE RETREAT  September 11-15, 2019, Riverside CA
Step back in time with your favorite authors! In a magical historical hotel setting, this five day retreat is a book lover's dream come true.  Join some of the world's most celebrated authors of historical romance coming together for an intimate gathering that gives every guest a chance to mingle and play. Dress in your favorite era, enjoy historical foods, games and music while surrounded by the glamour of a hotel that was once only enjoyed by the elite.
Registration is limited to 200 attendees, Hurry to get signed up!
https://www.historicalromanceretreat.com/registration
ROM-COM RENDEZVOUS PANEL AND SIGNING  – September 24, La Jolla, CA at 7:30 pm
Warwick's Bookstore will host Sonali Dev, Alisha Rai, and Kristin Rockaway for a Rom Com Rendezvous, moderated by author Tessa Dare, as they discuss and sign their newest books. Reserved Seating is available when any of the four authors' books is pre-ordered from Warwick's for the event.
https://www.warwicks.com/event/rom-com-2019
HEART OF ATX READING SALON – October 18, Austin TX
A multiauthor reading hosted by Cathy Maxwell, held at the Assemblage at Buda in South Austin
https://facebook.com/heartofatx/
AVON KISSCON NEW ENGLAND – October 26, Uncasville CT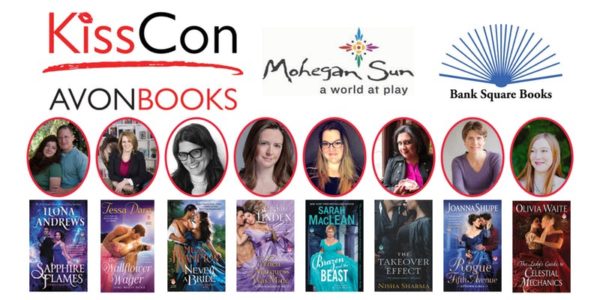 Pucker up for KissCon New England, a one-of-a-kind romance author event! Get swept away as The Cabaret Theatre turns into a book lovers' haven on Saturday, October 26. Spend this one-night affair with your favorite romance writers: Ilona Andrews, Tessa Dare, Megan Frampton, Caroline Linden, Sarah MacLean, Nisha Sharma, Joanna Shupe and Olivia Waite.
Get all the information and buy tickets here:
https://www.eventbrite.com/e/kisscon-new-england-tickets-63793094864