The Wallflower Wager (Book 3 in the Girl Meets Duke series) comes out August 13, 2019 – and it's available for preorder pretty much everywhere!
Behold, the cover.  Aren't Gabe and Penny lovely? I adore his slight, wicked smile.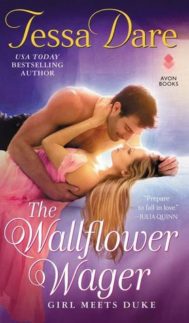 In other news, thanks to Tantor Media, three of my books are now available in audio for the first time: Surrender of a Siren, A Lady of Persuasion (releases April 19), and "His Bride for the Taking" in my duet with Christi Caldwell, Rogues Rush In. Hurrah!