The duke's

heart

grew four sizes that day…

Introducing…

 
A holiday anthology featuring all-new linked novellas by yours truly, Sarah MacLean, Sophie Jordan and Joanna Shupe, available now!
Christmas magic is in the air… From the ballrooms of London, to abandoned Scottish castles, to the snowy streets of Gilded Age New York, four bestselling authors whip up some unforgettable romance…with a little help from some enchanted shortbread.
Amazon: https://amzn.to/2wZjg7w
iBooks: http://bit.ly/dukesstole_ibooks
Kobo: http://bit.ly/dukesstole_kobo
Barnes & Noble: http://bit.ly/dukesstole_nook
Is it available in print?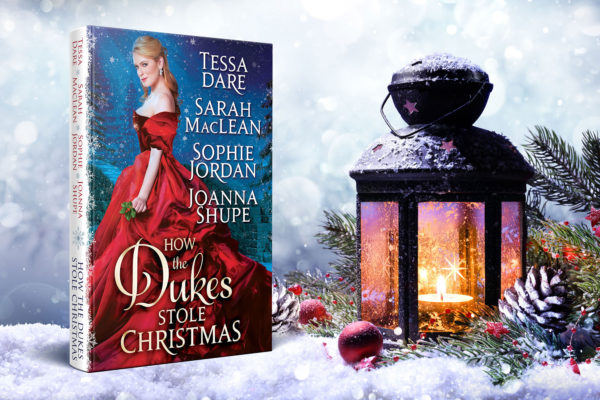 Yes! We've put together a special hardcover edition.
You can even order a copy with a bookplate signed by all four authors—which I daresay could make an excellent holiday gift.
Signed hardbacks are exclusively available to order from these bookstores:
The Ripped Bodice (Los Angeles, CA)
Katy Budget Books (Houston, TX)
WORD (New York, NY)
Unsigned print copies are also available from Amazon and other online retailers.
The Novellas
"Meet Me in Mayfair" by Tessa Dare
Louisa Ward needs a Christmas miracle. Unless she catches a wealthy husband at the ball tonight, the horrid, heartless Duke of Thorndale will evict her family from their beloved Mayfair home. But when her friend begs to switch dance cards, Louisa finds herself waltzing with the enemy: the horrid, heartless–and unexpectedly handsome–Thorndale himself. Now the duke's holding her future in his hands…and he's not letting go.
"The Duke of Christmas Present" by Sarah MacLean
Rich and ruthless, Eben, Duke of Allryd, … Read More »