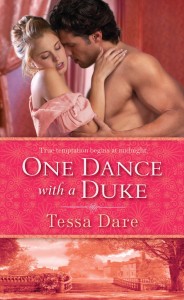 Woohoo! Today's the big day! The release of One Dance with a Duke, the first installment in an all-new trilogy. I'm so proud of this book, and of course, I want to have a contest to celebrate!
Usually, I just invite you all to comment to win books. That's always fun, but I thought I'd do something different today. I'm going to ask you to help feed my family. And in the process, feed some other families.
Bear with me for a moment. There's a method to this madness, promise.
The heroine of One Dance with a Duke, Amelia, is a true hostess and expert at menu planning. She has a little book of recipes and menus that she keeps, and she takes pride in putting together the perfect meal. Well, this part of her characterization was clearly wish fulfillment on my part. Meal-planning is not my forte–especially not with two picky darelings in the house and three books releasing back-to-back this summer. When dinnertime rolls around, I wish I had Amelia's little book of recipes and menus. I also wish I had her servants to prepare them.
Since I don't have those things, I figured…hey, the romance world is full of resourceful individuals. I am here to ask you to give me your family-friendly, time-saving dinner ideas. BUT. They must be easy and simple. So easy and simple that they will fit in one "tweet" (If you don't use Twitter, this means that typed out they … Read More »