| | |
| --- | --- |
| | Twice Tempted is in stores today! |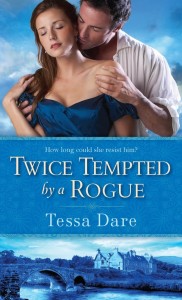 Hooray, it's release day! Twice Tempted by a Rogue, book two in the Stud Club trilogy is in stores today. Sooo exciting! You can read the first chapter and find buy links here. You can enter to win an autographed copy here.
This book was a challenge for me in many ways. Rhys is by far my most tortured hero yet, and Meredith needed to be a strong, resourceful heroine to be his match. But the joy of writing the book was in developing these two strong individuals and letting them reveal their vulnerabilities to each other. Rhys has spent most of his life destroying things, including himself; but now he wants something he'd never dreamed could be his – a real future. Hardworking Meredith cares for her father, an inn, and pretty much a whole village, but she secretly years to be nurtured and protected for a change. They are two characters I loved spending time with, and it made me ridiculously delighted to give them a happy ending together. So I hope readers enjoy reading their story as much as I enjoyed writing it!
In other news, the discussion of One Dance for a Duke for Sarah's Sizzling Summer Bookclub will be tomorrow night, 10 PM Eastern time. I'll be joining the end of the discussion to answer any questions. Check out the details here. Hope you can make it!