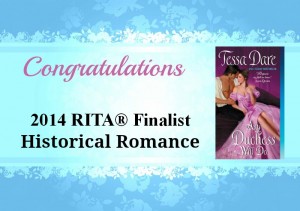 Yesterday, I received the most wonderful call. Any Duchess Will Do is a finalist for the 2014 RITA in the Historical Romance category! This is such an honor, and I'm so thrilled to be on the finalist list with so many amazing authors. The awards will be presented at the national convention in San Antonio this July.
In the meantime, I'll be out and about in a few other places:
In April, I'll be appearing at the LA Times Festival of Books, on the Romance panel with the amazing Julie Anne Long, Susan Squires, and Beth Yarnall. The panel is on Saturday, April 12th, at 12:30 PM. A book signing will follow.
Then in May, I'm headed to New Orleans for the RT Book Reviews convention! It will be my first time in NoLa, and I'm so excited. I'll post my schedule of panels and signings as the date approaches.… Read More »