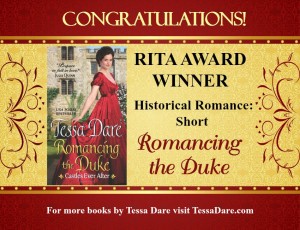 It's been a busy summer for the Dare family, with a good deal of travel and excitement going on. I've just come home from the Romance Writers of America conference in New York City, and I was so thrilled to be bringing a shiny new friend home with me.
Romancing the Duke won the RITA® award for Best Historical Romance: Short! What an honor and thrill. (And if you haven't read it yet, the book is currently on sale for $2.99 at most retailers!)
Now I'm getting so excited for the release of the next Castles Ever After installment, When a Scot Ties the Knot. Release day is August 25–less than a month away! Logan and Maddie's story is already garnering some lovely reviews, including starred reviews from Publishers Weekly, Library Journal, and Kirkus Reviews. And if you're eager to start reading, I've just added a nice long look at Chapter One right here on the website. Enjoy!
Preorder links are available for your use, too. 🙂