| | |
| --- | --- |
| | Sneak Peek at What's Next… |
Quite a few of you lovely, lovely people have asked about the next book, and now that the book is actually written 8) I feel I can post a few tidbits of information. I should say that everything in this post is subject to change, as it's not yet set in stone. Once I have an official cover, blurb, and release date I will definitely create a proper page for the book in my Bookshelf section. For the meantime, here's what I can tell you.
The book will be almost probably certainly titled A Night to Surrender. It will most likely be released in early Fall of 2011, like August/September-ish. And it will most definitely have a gorgeous cover, if the preliminary artwork is any indication. I can't share it yet. Believe me, I want to.
Oh, I am weak. Maybe I can give you a just a teensy, tiny snippet?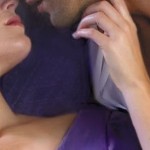 *siiiiigh*
The setting for this book (and the entire series) was partly inspired by the trip I took to England this past August. I spent most of my time on the coast of Sussex–Brighton, Hastings, Rye. The hero of the book, Victor Bramwell, is a war hero. He's been granted a revived medieval earldom, which includes a very un-revived medieval castle. Rycliff Castle, as it exists in the book, was loosely cobbled together from several sites I visited. One of them was Hastings Castle, pictured here.
*siiiiigh* some more. So lovely.
To go along with that, here's a teensy, tiny snippet from the book (again, all subject to change! Not edited yet), where the heroine, Susanna Finch, is showing the newly arrived Bram to what is now his castle.
Once they crested the sandstone ridge, Susanna pulled to a stop. "Well," she said between deep inhalations, "there it is, my lord. Rycliff Castle."

The castle ruins sat perched at the tip of an outcropping, an arrowhead of green heath jutting over the sea. Four stone turrets, a few standing arches…here and there, a bit of wall. This was all that remained. In the background spread the English Channel, now turning a lovely shade of periwinkle in the dimming afternoon.

Silence reigned for a long minute as the men took in the scene. Susanna kept quiet too, as she tried to see the ancient ruined fortress through fresh eyes. As a young girl, she'd be taken with the romance of it. When viewing the castle as a picturesque ruin, the absent walls and ceilings were the best features. The missing parts were invitations to dream; they inspired the imagination. When looking upon this as a prospective residence, however, she could only imagine the missing parts would inspire grave misgivings. Or perhaps hives.
So there are a few tidbits. More snippets (and lengthier excerpts, and full size covers, and complete blurbs) to come…!