GIVEAWAY! One lucky commenter today will win a signed copy of BEHIND THE RED DOOR.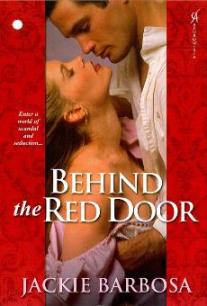 Like many of you, I first met Jackie Barbosa through the 2006 Avon FanLit writing competition. Since then, I've had the great fortune to become friends with Jackie both online and in real life. She's a fabulous person and a gifted writer, and it's been so exciting to watch her career take off. After publishing several contemporary and historical novellas with e-publisher Cobblestone Press, today Jackie celebrates her first print release with Kensington – BEHIND THE RED DOOR, a single-author anthology of historical erotic romance. I've been lucky enough to read it an early copy, and it is smart, sexy, and sooooo romantic.
When Jackie and I were discussing the best way to celebrate and handle this here guest blog, we decided perhaps we'd chat and interview one another about the writing of novellas–since I just recently released one of my own. Here's our conversation on the long and short of it. 🙂
Tessa: *clearing throat*
So, Jackie–it amuses me that we're having this conversation, because
we are both writers who end to write novels on the long side, but who
have also written short novellas (under 20K words). What made you
decide to attempt a novella in the first place? Did anything surprise
you about the writing process?
Jackie: I wrote my first short novella on a dare from Ann Aguirre, actually. She mentioned an Ellora's Cave call for submissions, said … Read More »