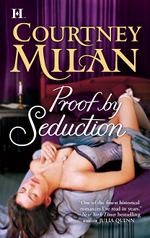 So, I have this friend. A brilliant friend. And she wrote this book. A brilliant book. It officially releases January 1st, but you'll probably start finding it in stores any day now.
My friend's name is Courtney Milan, and her debut historical romance is Proof by Seduction.
When Courtney and I met over three years ago, neither of us had ever written a full novel. We started working with another friend, Carey Baldwin, who had a full draft under her belt and a few more clues than we did, and together the three of us worked our butts off to figure out this romance-writing thing.
I still remember the day Courtney sent me the first draft of her first scene with Proof's heroine, Jenny Keeble. Jenny just leapt off the page with intelligence and secrets and desires and delicious potential, and I did a little dance in my chair because I just knew Jenny would be the star of Courtney's dazzling debut. And here she is!
Of course, by now, a lot of other people have figured out how brilliant Courtney and her book are, so don't take my word for it! Here's what the early reviews are saying:
"Historical romance fans will celebrate Milan's powerhouse debut, which comes with a full complement of humor, characterization, plot and sheer gutsiness."

—starred review, Publisher's Weekly

"A dazzling debut by a multitalented author… Milan steams up the pages while drawing readers into an emotionally powerful relationship centering on the true meaning
…
Read More »