| | |
| --- | --- |
| | The Twelve Days of Proof! |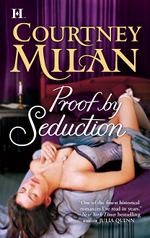 So, I have this friend. A brilliant friend. And she wrote this book. A brilliant book. It officially releases January 1st, but you'll probably start finding it in stores any day now.
My friend's name is Courtney Milan, and her debut historical romance is Proof by Seduction.
When Courtney and I met over three years ago, neither of us had ever written a full novel. We started working with another friend, Carey Baldwin, who had a full draft under her belt and a few more clues than we did, and together the three of us worked our butts off to figure out this romance-writing thing.
I still remember the day Courtney sent me the first draft of her first scene with Proof's heroine, Jenny Keeble. Jenny just leapt off the page with intelligence and secrets and desires and delicious potential, and I did a little dance in my chair because I just knew Jenny would be the star of Courtney's dazzling debut. And here she is!
Of course, by now, a lot of other people have figured out how brilliant Courtney and her book are, so don't take my word for it! Here's what the early reviews are saying:
"Historical romance fans will celebrate Milan's powerhouse debut, which comes with a full complement of humor, characterization, plot and sheer gutsiness."

—starred review, Publisher's Weekly

"A dazzling debut by a multitalented author… Milan steams up the pages while drawing readers into an emotionally powerful relationship centering on the true meaning of love. Completely satisfying, this is a book meant for all time."

—4½ star review, TOP Pick! RT Book Reviews
(To read yet more praise and an excerpt, check out Courtney's website.)
To mark the release of this amazing book, today (Monday) we're kicking off a Twitter countdown to the official release day. It's the 12 Days of Proof!  If you're on Twitter, join the fun by following me at @tessadare, or the #12pbs tag. For each of the twelve days, we'll be tweeting a twist on the classic Christmas song, inspired by Courtney's book. The…verses?…are the collaborative creation of Courtney's most devoted fan base, the Bonbons/Vanettes. 🙂
AND, on each of the 12 days, we're giving away at least one autographed book. Authors who've graciously donated their books include Eloisa James, Julia Quinn, Anna Campbell, Sherry Thomas, Elizabeth Hoyt, Sara Lindsey, Julie Anne Long, Carolyn Jewel, Victoria Dahl, Jennifer Haymore, Zoe Archer, and of course Courtney Milan herself and yours truly, Tessa Dare. We're all fans of Courtney!
To enter each day, just follow @courtneymilan and use the #12pbs hashtag in a tweet—either by RTing our 12 Days tweets, or by using the hashtag to do your own gushing, yearning, posting of book-spotting photos, etc. Winners will be picked at random from the #12pbs twitter stream. The entry period for each day will run from 12:00 AM to 11:59 PM EST, and I will do my best to announce winners promptly after close of each day, but it being the holidays and all, please forgive minor delays. Winners will be asked to DM their snail addresses.
On the 12th day, Carey Baldwin and I will be in Courtney's hometown to celebrate her official release day! We'll be heading around to different bookstores, spotting and signing stock, and we'll give away copies of PROOF all day long.
If you're not on Twitter and want a chance to win PROOF and two other great debuts (or even if you are on Twitter and want to hedge your bets), enter my monthly website contest!
Thanks for playing along!  However you celebrate the holidays, I hope you find the time to give yourself the gift of reading!