If you're anywhere near San Diego on July 13, don't miss the "Readers for Life" autographing at RWA's National Conference! I'll be signing books, along with more than 400 other romance authors. Click the image for a full list of authors attending and more information.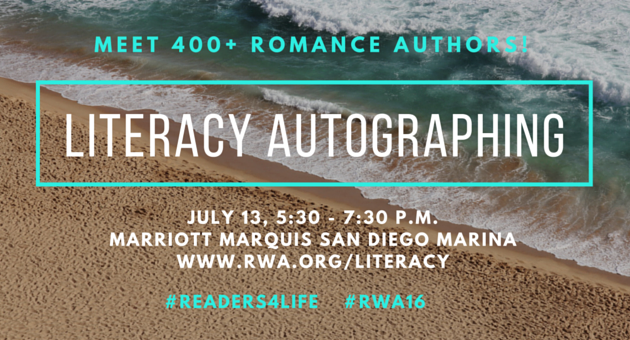 I'm looking forward to being at the RWA Conference next week – seeing reader friends and author friends and publishing friends, and attending events, including the 2016 RITA and Golden Heart awards. I'm honored that Say Yes to the Marquess is a RITA finalist this year in Historical Romance-Short. Did you know the awards ceremony will be streaming live online? Go to rwa.org on July 16th, 8pm Pacific time to join the excitement.
AND…if that wasn't enough, I get to be on a panel at San Diego Comic-Con!  Finally, something that makes me cool in the eyes of my kids. Here's the info:
Smitten with Words: Romancing the Reader – Thurs. July 21, 12:00, Horton Grand Theater
Bestselling authors Sylvia Day (Crossfire novels), Christina Lauren (Beautiful series), Nalini Singh (Psy-Changling series), Chloe Neil (The Devil's Isle and Chicagoland Vampires series), and Tessa Dare (Castles Ever After series) turn up the heat at SDCC as they discuss the power of romance, the range and voice of the genre, and blush-inducing conversation and have a hilarious battle over movies, TV shows, and Hollywood's hottest. Moderated by HelenKay Dimon (Bad Boys Undercover series).