Today I want to share an excerpt from my December novella. But first, some backstory.
About a month ago, two romance-reading sisters in Southern California emailed to say they were planning to open a new bookstore, and raising seed money for furnishings and inventory on Kickstarter.
When I first heard about Bea and Leah's business plan, I was thrilled for two main reasons.
First: A new all-romance bookstore in Los Angeles? Yes, please!!!
Second: I loved the name they've chosen: The Ripped Bodice.
See, I've been hiding a little Easter egg in my books ever since Goddess of the Hunt, my debut.  All my books (or at least most of them, if I've missed one or two… I should really make a list one of these days!) include a scene with… yes, a ripped bodice.

Sometimes the bodice-ripping is accidental, rather than intentional. Occasionally, it's just fantasy. Sometimes the ripped garment is not actually a bodice, but rather a petticoat or a gentleman's shirt. In at least one book (Three Nights with a Scoundrel), the heroine rips her own bodice, and quite shamelessly at that. For me, it's become a nod to the history of my favorite genre, a little wink to the reader, and a reminder to myself that romance tropes are ours to embrace, celebrate, and subvert as we wish. Plus, I'm not ashamed to admit–during an encounter between two enthusiastic participants, I think a bit of ripping fabric can be sexy as anything!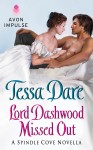 But I've never had more fun with the trope than I did in writing my next novella, Lord Dashwood Missed Out. And it's undoubtedly my most historically accurate bodice-ripping yet.
So in honor of Bea and Leah and The Ripped Bodice kickstarter (which ends in just two days), I thought I'd share the excerpt.
In this scene, the quarreling hero and heroine have found themselves locked out of their tiny cottage—at night, in the falling snow, while they're dressed in…nothing much at all.
From Lord Dashwood Missed Out, releasing December 8th:
The tips of his ears had gone numb, and frost stung at his nose and lips. He pulled her head tight to his chest and buried his face in her hair.

"Be calm," he whispered.

"I can't be calm. We have to do something." She perked with a sudden surge of energy. "I'm not going to go easily."

No, my darling. You never would.

"We were always best at solving problems as a team." She turned to investigate the window and its frame. "Of course the hinges would be inside. We can't remove it altogether."

"And it's too high for me to try battering it in. If I had an axe, I could break through." He pushed at the seam of the two wooden panels, testing the latch. "If we could manage a slender lever of some sort, perhaps we could ease it through the gap and lift the hook."

She tugged at his sleeve. "My c-corset. There's a whalebone busk down the center, just here."

She drew a line from the midpoint of her sternum to her navel, tracing the shape of a narrow bar.

He framed her rib cage in his hands, running a thumb down the inch-wide spur of whalebone. "That just might do the trick. We only have to get it out."

He curled his fingers under the two cups of her corset and pulled them in opposite directions.

"You mean to rip it in half?"

"I'll have it in a moment." He braced his feet, took a stronger grip, and tried again. "This stitching . . . is remarkably . . . strong." He let go and stood back, breathing hard. "How do pirates manage their plundering?"

She giggled. "I don't know about pirates, but I know seamstresses sew these with a little p-pocket." She guided his fingers to the valley between her breasts. "Just here. To slide the busk in and out."

His fingers took hold of the pale, thin divider, and out it slid. "Ah. I see. That does make more sense."

"I would have thought you'd know your way around a lady's undergarments."

Dash shook his head. There wasn't time to discuss this now. Nor was there time to contemplate the exquisite softness of her breasts.

"I'll boost you." Lunging one boot forward, he made his knee into a stepstool. "Like so. You'll have to wedge the shutters apart with your shoulder and sneak the busk through."

"I know." Her teeth chattered.

"Are your hands warm? Because if you bobble that thing and drop it inside before the shutter's unlatched, we're finished."

"I know. But I'm not getting any warmer."

Dash wasn't convinced. He took the busk from her shaking grip and caught it in his teeth. Then he yanked up the hem of his shirt and pulled her chilled hands flat against his abdomen before drawing their two bodies close.
I know, I know… it's cruel of me to cut off the scene just as things were heating up. **insert wicked laughter here**
If you'd like to kick in a few dollars to help make this new romance bookstore a reality, I invite you check out The Ripped Bodice's kickstarter page in the next 48 hours. As I write this, they're soooo close to fully funding the store's start-up costs, and they're offering an abundance of cute rewards to supporters, from totebags to tank tops and more.
And yes, my name is on the tote bags! And yes, I was ridiculously flattered by that. And yes, of course it made me feel even more warmly toward the booksellers. But really, they had me at "Ripped Bodice." 🙂