| | |
| --- | --- |
| | Mr. Wright is Mr. Right Now! |
Just in time for your holiday reading… A hero who's definitely on the Naughty List. 😉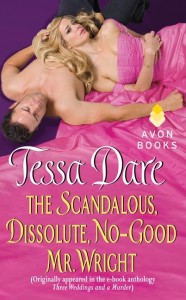 My novella The Scandalous, Dissolute, No-Good Mr. Wright is now available from Avon Impulse. This novella was published earlier this year in Three Weddings and a Murder, a charity anthology. If you missed it then, here's your chance to snap it up for just $0.99!
Kindle | Nook | Apple | Kobo | Sony
Reviewers have said:
"With a funny and witty plot, this story will have readers cheering." (RT Book Reviews)
"Eliza and Harry are just right for one another—their interactions sparkle and sizzle with wit and desire." (Dear Author)
I hope you enjoy their story, too! And don't miss The Rake Name Generator — a fun widget that will give you a Scandalous, Dissolute, No-Good name of your own. Or is it a Perilous, Raffish, Ill-Intentioned name? Or a Fascinating, Crafty, High-Class name? Click and find out for yourself.
Happy Holidays to you and yours!