Oh my goodness!
The RWA Conference was spectacular in so many ways.  How could it not be? I mean, I was presented with jewelry and cake! (Thanks, Diana, Edna, Carrie, Lisa, and Marni!)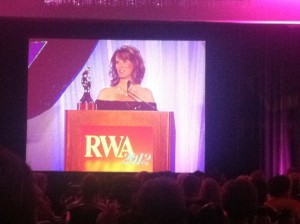 But my highlight of the year (and many years!) came on Saturday night, when I was honored to receive the 2012 RITA Award for Regency Historical Romance, for A Night to Surrender!
I can't even describe how much this meant to me.  To receive a RITA award is a tremendous honor, and to have it happen so close to home, with so many friends and my husband in attendance — it was like a dream come true.
Thank you to all the readers, friends, and colleagues who made this conference so special!