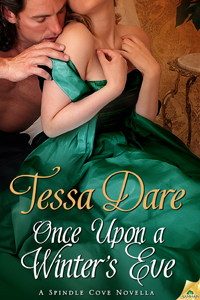 Just two weeks until the release date for Once Upon a Winter's Eve!  I have three great bits of news on that front.
Pre-order available!   You can pre-order it for Kindle here.  Other formats (including HTML and PDF) are available for pre-order directly from the Samhain store.  That's just the beginning.  By November 15th, the novella will also be available for purchase directly from Nook, Sony, Kobo, Apple, and other e-book vendors.
New excerpt!  I have uploaded the entire first chapter for your reading pleasure here.
Great price!  And I've saved the best news for last – for the holiday season, Samhain is making the novella available for a promotional price of just $0.99!
I'm excited.  Can you tell?  🙂
Violet's story was a joy to write, and I'm so glad that this novella will be available in time for the holidays, at a very affordable price.  And isn't the cover beautiful?
Remember, even if you don't have an e-reader, you can use one of the free Kindle apps to read it on your computer or phone, or you can purchase the book from Samhain in html or PDF format and read it in your browser.