…is finally on my blog!
Okay, here comes the overdue conference wrap-up!
So, I did not win the Regency Historical RITA on Saturday night – that honor (most deservedly) went to Julia Quinn for What Happens in London. I was so elated to see her get her third RITA and instant induction into RWA's Hall of Fame, I honestly didn't feel the least bit disappointed. What I felt was hungry, and, in the absence of any lingering nerves, finally able to enjoy my dessert. 🙂
The conference was wonderful, on the whole. Both of my panels seemed to go okay (even if mostly on the strength the other panelists!), and the book signings were amazing experiences. Last year, I was mostly signing books for my friends. This year, I had actual readers! Ones I didn't know! Seriously, that was beyond thrilling.
Of course, there were parties. The swanky Avon party at Epcot's Living Seas pavilion was one highlight, as was the rockin' party we held in our suite. I had fun hanging out with old friends and meeting new ones, had productive meetings with my agent and editor. Good times, good times.
Oh, and Nora Roberts gave an unforgettable keynote address. Inspiring, hilarious, and, in several places, delightfully profane.
So that was conference. Now let's get to the important part: Harry Potter!
As a long overdue birthday gift, Carey Baldwin and I took our beloved friend and CP, Courtney Milan, to the brand spankin' new "Wizarding World of Harry Potter" at Universal Studios Islands of Adventure. We'd been hearing all week that the lines and wait times were insane, so we printed out tickets the night before and woke up at the crack limp, humid flap of dawn to get in line. Which worked beautifully, because we were among the first to get into the park. Sara Lindsey also happened to visit the park that day with her mother and sister, so the more/merrier quotient only increased.
The centerpiece of the HP area is Forbidden Journey ride, which is housed in Hogwarts. I mean, really. They built Hogwarts and put the ride inside! Just waiting in line was awesome. We passed through Dumbledore's office, saw the mirror of Erised and pensieve, walked through Mrs. Sprout's greenhouse and the gallery of talking portraits, and more. SO cool. (I mean, it's cool to a Harry Potter geek like me. But even Carey, who isn't into HP so much, thought it was pretty neat.)
The ride itself…eh. I get motion sick *really* easily, and the ride used a lot of those surround screens, where the combined visuals and ride motion are supposed to make you feel like you're flying on a broomstick with Harry and friends. Yeah, I couldn't handle those parts. Had to close my eyes. But I gleefully opened them for the live-action spiders and dementors and Whomping Willow. 🙂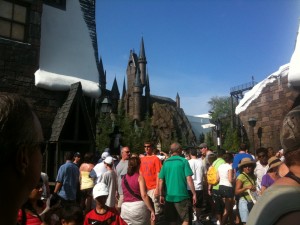 Then it was on to Hogsmeade, where we watched a wand fitting at Ollivander's, poked around the Owl Post, Honeydukes and Zonko's, and ate at Three Broomsticks. Courtney and Carey rode a fiendish-looking Dragon Challenge roller coaster while I watched the Frog Chorus and enjoyed some anti-nausea medication. 🙂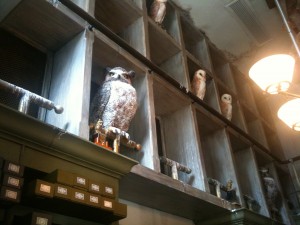 I would say this was the best part of the Harry Potter theme park experience: simply soaking up the atmosphere of that beloved fictional world. But really, the best best part was spending a few more hours with good friends. Here are the three of us, enjoying a frosty butterbeer. (Which tasted to me sort of like old-school Tab, topped with sweet whipped cream. Yum!)