Last week was my local RWA chapter meeting, and I had the pleasure of signing books with several of our chapter's published authors. What struck me was that three of them all had Silhouette Desire books out this month!
If you've read books from the Desire line (or even looked at the titles), you know the heroes are usually super high-powered businessmen. They have wealth, power, and of course, good looks…everything but the right woman in their lives. I don't know about you, but I can never get enough of that storyline: the strong, uncompromising Alpha hero who won't be ruled by anything or anyone, until love turns his world on its head. (Spencer of One Dance with a Duke being a case in point!) Evidently I'm not alone, because these books sell like deep-fried hotcakes at the State Fair.
Here are OCC's home-grown Desires for the month of July:
The Millionaire Meets His Match, by Kate Carlisle
The CEO of Duke Development had been on guard since he discovered his mother's diabolical plot to marry him off. Him and his brothers. And when his desirable new assistant, Trish James, hinted she wanted more than just a business relationship, Adam figured she was in on the scheme. So the boss decided to play along and seduce the secretary…then put a stop to his mother's meddling marriage plans once and for all. But even Adam could not have guessed Trish's true agenda for wanting him in her bed….
Claiming Her Billion-Dollar Birthright, by Maureen Child

The revelation turned Erica Prentice's world upside down—by birth, she belonged to a wealthy Colorado dynasty and her real father had left her a fortune. And the Jarrod family attorney, Christian Hanford, was there to show her the ropes. As Mr. Tall, Dark and Handsome escorted her around Aspen, Erica was in for a second shock—her fiery attraction to the strictly off-limits attorney. Fraternizing with the Jarrod heiress could get Christian fired.

Which would she choose: duty to her family dynasty…or desire for a dynamic bachelor?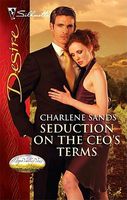 Seduction on the CEO's Terms, by Charlene Sands
He'd returned to Napa Valley strictly to help run the family winery…not be distracted by a
beauty on the staff. CEO Joe Carlino had made the mistake of indulging in an office romance once before, and everything about Ali Pendrake practically screamed "make me your woman!"

Frustrated that her boss was judging her solely by her looks, Ali committed to a total reverse makeover. Ironically, when she transformed from glittery Cinderella to mousey plain-Jane, she really caught the wealthy bachelor's eye. Yet as they moved from boardroom to bedroom, she wondered if Joe would ever see—or love—the real Ali.
This is Kate Carlisle's very first Desire, and she landed the coveted "Man of the Month" label! (Shouldn't exactly come as a surprise, given that her first mystery novel made the New York Times list. She is on fire.) How much do I love that in Maureen Child's book, the heroine is the billionaire, and that Charlene Sands has a reverse Cinderella tale…?
Also, I have to say, all three of these women are such inspirations. Not only are they immensely talented bestselling authors–they're also whip-smart, generous, sincere, and gorgeous. (Okay, and a just little intimidating at times. At one of my very first OCC meetings, the chapter celebrated Maureen's 100th book. Her name was emblazoned across this positively enormous cake. And I, having come in during a break, accidentally took her chair. *facepalm* But she still speaks to me!)
Last Saturday, I asked each of these authors to sign a copy of their latest Desire, and happily they agreed. And I'm going to give away all three to one lucky winner. Just leave a comment to enter, telling me about your favorite alpha hero! I'll close entries on Friday at 5PM Pacific Time. Good luck!