| | |
| --- | --- |
| | Giveaway! Jennifer Haymore's A Touch of Scandal |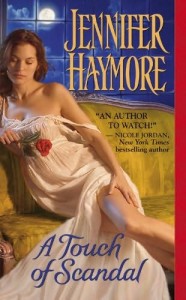 I am so jealous of my friend Jennifer Haymore. First, because she gets the most unbelievably beautiful, hawt stepbacks. If you're a clinch lover like I am, you must visit her website and mouse over the cover of A Touch of Scandal, so you can see this one in all its blond-hero glory.
But my envy of her doesn't end there, not by a mile. Jennifer is not only a beautiful writer, but she has a gift for creating gut-wrenching, heart-wringing, romantic scenarios for her characters. You know, the kind of books where you wonder halfway through, "How can this possibly end happily?" …and then it does! And the end is so much sweeter for all that angst.
Last year, her debut, A Hint of Wicked, was a runaway success and the talk of Romancelandia. It featured a love triangle between a widow, her new husband, and the first husband thought dead, who returns eight years later. Let me tell you, I still get chills thinking of the first chapter of that book. I'm pretty sure you can read it on Amazon with the "Look Inside" feature.
But of course, with a love triangle, you know someone's going to get left out in the end (in a mainstream romance, anyhow!), and now this year we have Garrett's book, so he can have a happy ending of his own! Yay! The blurb for A Touch of Scandal:
The last thing Garrett, Duke of Calton, expects to find while tracking his sworn enemy is the delectable, mysterious Kate. This beautiful servant girl rouses a longing the battle-scarred ex-soldier had never hoped to feel again. But when she turns out to be the sister of the man he seeks, he's convinced he's been betrayed.

Kate knows her duty to her family, yet how can she ignore Garrett's powerful pull on her heart? Or the heady temptation of his stolen-and sizzling-kisses? Scandal has followed the duke since the war. Now the greatest shock of all is on its way-the one that can separate Garrett and Kate forever.
Once again, Jennifer creates a gut-wrenching scenario–Garrett finally finds love! Yay! Um, with the sister of his sworn enemy. Oh…tartar sauce, as the darelings would say. A blissfully happy ending awaits–but you have to go through the wringer with these characters to get there. Jennifer Haymore is an author to read when you really want to feel invested in the characters, feel taken on their journey…just feel.
A Touch of Scandal is on sale today, but you could win a copy here! Just leave a comment about your favorite heart-wrenching romance by 9PM PST, March 31st. At least two winners, possibly more, will be selected at random and posted Thursday. No April foolin'.
(While you're visiting my site, March 31st is the last day to enter the New Year, New Authors contest. And I've posted a new, lengthier excerpt from my upcoming release, One Dance with a Duke!)