Hello, hope you all had a great weekend!
So, people have been asking about next year's books, The Stud Club Trilogy. And I may as well start talking about them, since books one and two, One Dance with a Duke (5/25/10) and Twice Tempted by a Rogue (6/22/10), are now both available for pre-order! And because I've just recently received my lovely, sexy covers.
Oooh.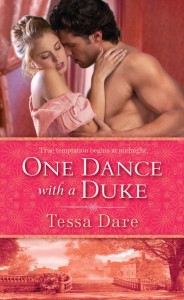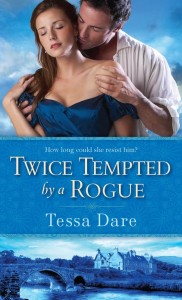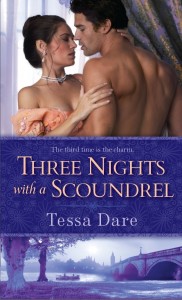 What's different about this series, compared to the first trilogy? Well, they're a smidge darker in tone, as you'll see from the series' inciting event, but they still have a fair amount of lightness and humor. The characters are all a little older and experienced than they were in my first set.
But I'm sure the burning question is, "What the heck is the Stud Club? Are you joking?"
Well, I will admit. Like so many elements in my stories (hello, Werestag?), it did start as a joke. After writing a series that was largely heroine-driven, I wanted to switch emphasis to the guys this time. And one logical way to do that was to create my own take on a "Regency bachelor club" series. And if I was going to do that, I thought, why not call it what it is? A Stud Club. 🙂
But the Stud Club actually does have a meaning, and to explain, I will quote from the proposal I submitted for the trilogy:
In Regency England, horseracing was known as "The Sport of Kings," the collective passion of the wealthy and well-connected. Noblemen spent vast sums of money breeding, stabling, and training thoroughbred horses to compete for honors at racetracks like Newmarket and Epsom Downs. The Jockey Club was an actual gentlemen's organization—its exclusive membership, which included the Prince of Wales, took responsibility for the schedule and rules of organized horseracing.

In this trilogy, "The Stud Club" is the brainchild of one good-humored and universally-liked gentleman: Leo Chatwick, the Marquess of Harcliffe. Years earlier, Leo purchased a valuable stallion at auction—Osiris, a champion racehorse now retired to stud. So many of his friends asked for the favor of breeding privileges, Leo devised the Stud Club as a lark—he had Osiris legally put in trust and created ten brass tokens to represent membership in the club.

It worked like this: possession of a token entitled a man to send his mares to be mated with the famed Osiris. However, tokens could never be purchased or given away, only won or lost in a game of chance. In this manner, Leo created a sensation within the ton—a club so elite it had only ten members, yet membership was attainable to anyone with luck.

As the years passed, the club was a source of good fun and camaraderie, forging unlikely alliances across class barriers and furthering Leo's reputation as an excellent sport. He was friend to all, enemy of none.

But on the night the trilogy begins, Leo is brutally murdered.
Yeah, that would be the source of the slightly darker tone. Poor Leo. But as you see, the Stud Club remains a joke, even within the books. It's Leo's joke on a class-conscious society, and his legacy to his peers. The heroes of the trilogy are the Club's three surviving members (Only three, Tessa? But you said ten tokens! I know, I know, all will be explained…), the titular duke, rogue and scoundrel. Only chance could unite three such different men, and after Leo's death, suspicion drives them apart. In the search for meaning and justice, they each find love in unexpected places. Which is good, because boy, do they ever need it!
More on the guys another time…
In the meantime, let's just gaze at the models portraying them…and sigh.