| | |
| --- | --- |
| | It's a Persuasion party! Tell your friends! |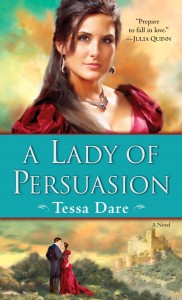 A Lady of Persuasion is in stores today! This is the third and final installment in the trilogy that began with Goddess of the Hunt and continued in Surrender of a Siren.  It's the story of Toby and Isabel's romance, but it's also a happy ending for an entire group of friends, both old and new.  And who better to celebrate that with than you–my friends, both old and new?
You see, when I started writing Goddess of the Hunt, I had this thought that it should feel a bit like the TV show Friends, only set in the Regency.  A group of…well, friends…who are at that time in their lives where they're figuring out their futures and pairing off, who know each other well enough to throw around a lot of witty set-downs and the occasional incisive remark.  A group of people who genuinely care about one another, even though they'd sometimes rather not admit it.  And it was just so much fun, to write Henry, Toby, Felix, and Jeremy giving each other sh*t in the way guys do.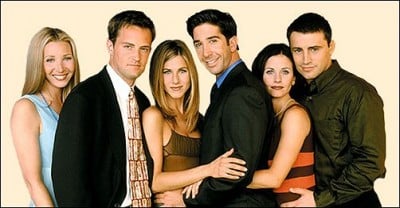 There are several sections of A Lady of Persuasion where the main characters from all three books are together–sometimes for pleasant reasons, and sometimes not.  Don't get me wrong–I adored Toby and Bel as a couple, and their journey to love was a pure joy to write.  But those ensemble scenes were a unique pleasure, because I really believed each of the three (four! shhh.) couples' happily-ever-afters would be supported and strengthened by this larger circle of friendship and love.  And because I just can't write enough of those guys giving each other sh*t. 🙂
So, here's how this party works. Any comment will enter you to win a prize (more on those in a bit).  We're just going to play a big long game of "Remember When," and the theme of the day is friends.  You can share a memory about the friends in my trilogy (Remember when Jeremy and Lucy made out under that pear tree?  Yeah, that was hot.) or Friends the TV show (Remember Chandler and his 'nubbin'? Ew.), or our real-life friendships (Remember when went out for that awesome barbecue in Dallas during RWA? Those rolls! Like buttah.).  Or if none of those appeal to you, just bring out cocktail party conversation of any variety!  Or make something up.  (I write fiction; creativity's encouraged.)
Now, the PRIZES!
They are books, of course.  I will give away 3 copies of A Lady of Persuasion, and 1 copy each of Goddess of the Hunt and Surrender of a Siren (all signed, of course).  Because she is my friend and she is awesome, I will also give away 2 copies of the recently released The Heart of Christmas anthology, featuring Courtney Milan's most excellent debut novella, "This Wicked Gift."
So that's seven books — but wait!  It's not!  Because if you're a winner, I will double your prize and send a copy of the same book to a friend of your choosing, with a message that it is a gift from you!  Your mom, your sister, your neighbor down the street…a senior center, a teacher, a soldier…anyone you think might enjoy reading one of my (or Courtney's) books.  (Don't worry–any addresses collected will be used strictly to mail this one prize, then deleted.)  Winners will be picked at random from all comments.
As the day goes by, I may have prizes on Twitter as well, if you follow me there. 😉
So…let the fun begin!  Thank you all so much for your friendship, readership, and support. I hope you enjoy  reading Toby and Isabel's romance as much as I enjoyed writing it!
Your friend, Tessa