| | |
| --- | --- |
| | The movie that launched my writing career… |
Psst…I'm giving away a DVD of this film, along with goodies and coverflats! To enter, see my contest page.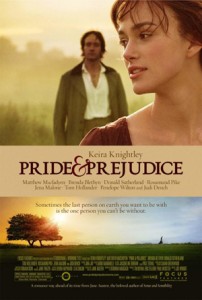 If anyone ever asks me why I became a romance writer? This movie is to blame.
Travel back in time with me, to November 11, 2005. (cue wavy effects and plinky music) I was a work-at-home mom with a toddler (dareling two was yet to be). My birthday had just come and gone a few days ago, with little fanfare. It was Friday morning, and as I drove to pick up my daily workload from the office, I listened to the weekly movie reviews on NPR. They reviewed the brand new adaptation of Pride and Prejudice, and in a rare occurrence, all of the critics loved it.
Now, I was already a P&P fangirl. Since high school, it had been one of my favorite books, and I'd been a huge fan of the 1995 BBC miniseries adaptation (which, for the record, is still my favorite adaptation. Colin Firth will forever be my Darcy.). Anyhow, I immediately called my husband at work and told him, this was what I wanted for my birthday – he needed to call his mother and have her come over to babysit, and then take me to see P&P that very night. So he did.
And oh, it was lovely. Funny, touching, romantic, filled with beautiful landscapes and a beautiful score and beautiful people. I pretty much floated around for days, which Mr. Dare obliquely enjoyed but did not exactly "get." I eventually sought a different outlet for my effusions of delight…online. That serendipitous click of the mouse was my introduction to the vast Austen online fandom, and the inspiring, creative playground that is JA fanfiction. And that community was my reintroduction to the historical romance genre. I was reading romance again, after many years hiatus, and I began writing it, too. First in short works of fan fiction, and then longer fics, and eventually (after a little contest called FanLit) my own original historical romance novels.
So without this movie, whatever writing career I might have would look verrry different. Darcy, what I do not owe you!
Any movies that you've watched at turning points in your own life?