Happy Valentine's Day, everyone!
One of the best things about being a romance writer is that I often feel like I'm living Valentine's Day all year round.  So setting aside one separate day to celebrate romance seems a little odd, given my profession.  Maybe kinda like being the presidential biographer on Presidents' Day?  Everyone else is suddenly paying attention to your field, but for you, it's just another day of business as usual.
But there are all kinds of love stories in the world. Especially after I've become a mother, true stories like this one touch my heart in ways no Regency-era courtship can.
Read the full story here--it's worth your time.
And here are my three favorite Valentine's Day cards so far: Coverflats arrived this week!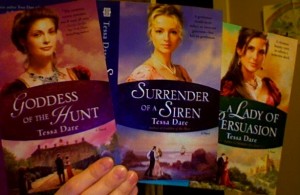 When you twist them in the light, those oval medallions shimmer.  I can't stop looking at them.  Ooooh, shiny.