As we forge ahead into summer blockbuster season, I've noticed something about the movies I'm psyched to see. They're all action movies — and they all star very atypical action-movie heroes.
We've got Robert Downey, Jr. in Iron Man.

And then we have Ed Norton as The Incredible Hulk.
And oh-my-stars, am I desperate to see James McAvoy star opposite Angelina Jolie in Wanted.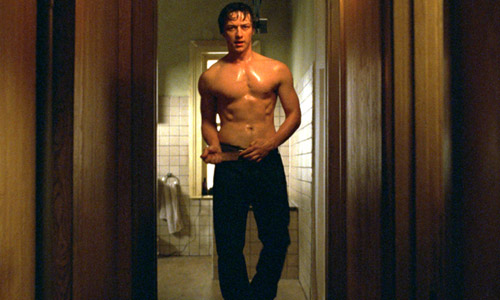 None of them are especially brawny guys, or for that matter, even particularly tall. Charisma and quick wits are their secret weapons. They bring the human factor to the superhero formula. And I'd take any of them over a 'roided-out titan any day.
Possibly because these guys remind me so much of my own real-life hero, my husband. No, he's not 6'4″ with tree-trunks for thighs, but he's lean and quick and packed with explosive energy that comes in handy during life's little crises. Seriously, I've seen him leap picket fences in a single bound, to break up dogs fighting down the block. I've watched him soar into trees to retrieve stuck toys, while small children look on in awe. I've seen him dash to a hotel room and back in tropical heat, in under two minutes (yes, I timed him), to fetch my grandmother's scarf. And when he brought back the wrong one, he did it again. Faster.
And now, thanks to my writing career, he has a pretty spiffy superhero name: Mr. Dare.
We're working on the costume.
Who are your favorite atypical heroes, in books, movies, life?
And congrats to TerriO, who won my giveaway last week!