| | |
| --- | --- |
| | Any Duchess Will Do – on sale now! |
Hooray, it's release day for Any Duchess Will Do!  I'm just so excited for Griff and Pauline's story to be out in the world.  I hope readers enjoy getting to know these two just as much as I did.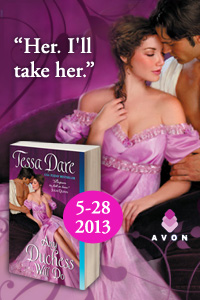 If you want to chat about this book, there are several chances!  There will be a Twitter chat today (May 28th, 4pm ET/1pm PT), hashtag #dukeproblems; my GoodReads group has an ongoing discussion thread; and there will be a special "Ask Tessa Dare" event at GoodReads on June 10th.  I'll be in the Chicago and Ohio areas in the next few weeks – details here.  And of course, please feel free to just email me, too!