In late September, Team Bodice Rippers had the honor of participating in the Avon Walk for Breast Cancer in Santa Barbara, CA. Pictured below (L-R) are me, Courtney Milan, and Carey Baldwin, just before we started off on the walk. Our fourth team member, Leigh LaValle, was at home with her newborn baby, but she was with us in spirit!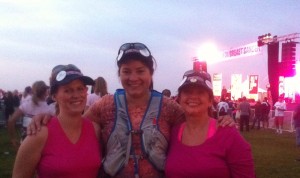 Thank you so much to everyone who purchased the Three Weddings and a Murder anthology, helping us meet and exceed our goal of raising $10,000 for breast cancer research, prevention, and patient support. We also owe a huge thank you to all our individual donors and to Samhain Publishing, for putting us over the top with a generous team donation.
For anyone who might have missed the limited-time anthology, my novella "The Scandalous, Dissolute, No-Good Mr. Wright" will soon be available again, probably in late November. Stay tuned for more details!
Now I'm on the road again–or in the air, off to England and Scotland for a research trip! My last trip to England was in 2010, when I gathered all the photos, information, and memories that went into creating Spindle Cove. I'm looking forward to creating some new romantic settings soon!
Hope you and yours are having a wonderful October. In the words of Rhys St. Maur…
Boo.