New Year, New Book -A Giveaway
Update, 12/30 – The ten winners (drawn at random by Rafflecopter, listed in the widget below) have been announced and notified! I've sent out emails to the winners, and to everyone who entered, so if you don't see an email from me in your inbox, please check your spam or bulk mail folder just in case. Thank you so much to all who entered! 
Do you want to write a romance novel in 2017? Or write another romance novel? Or write a better romance novel? (Hah, don't we all want that last!) Then this giveaway is for you.
Twenty years ago, I made a New Year's resolution to write a novel. Didn't happen. So I made that same resolution nineteen years ago, and eighteen years ago, and seventeen … you get the picture. It took me ages to get from wanting to write a novel, to actually having written one.  But I made the resolution every year nonetheless. I would buy myself a pretty new notebook and some pens, and for a few weeks, anything felt possible.
2017 may or may not be the year that the romance-writing thing gels for you. That's okay. The wanting counts. The sitting down and trying counts. The reading counts. And fresh pens and blank notebooks that make us feel anything is possible?  They count, too.
So for anyone with a romance-writing New Year's resolution, I'm offering a giveaway with some of my favorite, most essential writing things.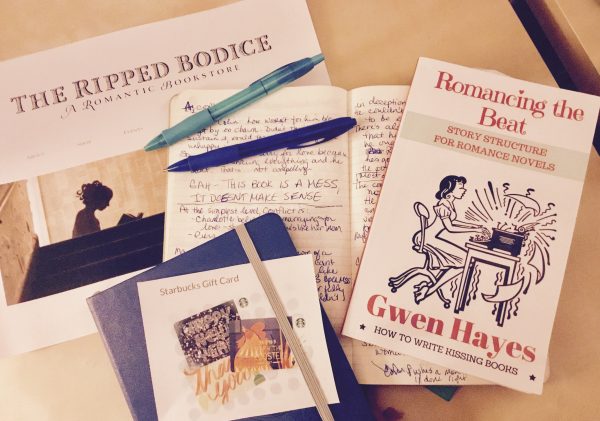 Ten winners will each receive a prize pack including:
A Moleskine notebook (color will vary) – I keep one of these with me at all times. It's my bullet journal, drafting notebook, and venting place (see photo) all in one.
Some Bic Velocity pens – my favorite for writing by hand (and I do write a lot by hand)
A copy of the excellent Romancing the Beat by Gwen Hayes, my favorite reference for romance story structure. I wrote a gushing, completely unsolicited review of it here.
A $10 Starbucks gift card, because caffeine is essential, and also because sitting in a coffee shop with the knowledge that you are a Real Writer is fun.
A $20 gift card to The Ripped Bodice bookstore, to buy some romances for research and inspiration. This fantastic independent romance bookstore is located in Los Angeles, but they also have an online store.
Enter below!
International entries are welcome, but we reserve the right to substitute prizes due to postal restrictions or other practical concerns.
By entering, you agree to be added to Tessa's email list. However, you can unsubscribe from it at any time.
No purchase necessary. Void where prohibited.