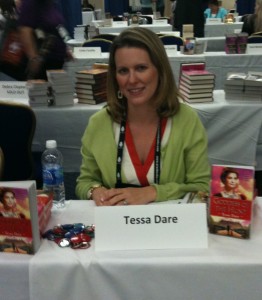 Tessa Dare is the New York Times and USA Today bestselling author of thirteen historical romance novels and four novellas. Her books have won numerous accolades, including Romance Writers of America's prestigious RITA® award and multiple RT Book Reviews Reviewer's Choice Awards.  Booklist magazine named her one of the "new stars of historical romance," and her books have been contracted for translation in more than a dozen languages.
Mixing wit, sensuality, and emotion, Tessa writes Regency-set romance novels that feel relatable to modern readers. With her bestselling "Spindle Cove" and "Castles Ever After" series, she has had great fun creating heroines who defy the conventions of their time–engaging in "unladylike" pursuits that range from paleontology to beer-making–and dreaming up the strong-willed, sexy heroes who find their hearts ensnared by them.
A librarian by training and a booklover at heart, Tessa makes her home in Southern California, where she lives with her husband, their two children, and a pair of cosmic kitties.
Publicity Photos
Clicking on thumbnail will download the larger, high-resolution file.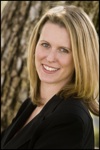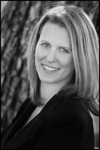 Photo credit: Raphael Maglonzo.
Book Signings & Appearances
2015
October 3 & 4th -Richardson, TX (Dallas area)
Book Signing, October 3rd at 2pm,  Barnes and Noble Firewheel,190 Cedar Sage Dr., Garland, TX. Authors signing: Tessa Dare, Katharine Ashe, D. D. Ayres, Linda Broday, HelenKay Dimon, Shana Galen, Barb Han, Sophie Jordan, Diane Kelly, Lizbeth Selvig, Tracy Solheim, Kay Thomas, J. D. Tyler, Becky Wade, Lori Wilde
Buns and Roses Romance Tea for Literacy, October 4th, 3-6PM at the Renaissance Hotel in Richardson. I'm honored to be the keynote speaker!
October 10th – Solvang, CA
Solvang Public Library: 2-3pm.-1745 Mission Drive, Solvang, CA, 93463
Eva Leigh and I will be giving a talk and reading from our books. Signing & informal reception afterward.
October 24th – Portland, OR
Avon Romance KISSCON -Co-hosted by Powell's Books at Cedar Hills Crossing
3415 SW Cedar Hills Blvd, Beaverton, OR 97005 -VIP Reception ($35): 4pm-5pm, Public Event (free): 5:30-7:30pm TICKETS here!
Public Book Signing: 5:30pm-7:30pm
Featured Authors: Darcy Burke, Gayle Callen, Tessa Dare, Lisa Kleypas, Eva Leigh, Julie Anne Long, Julia Quinn, Candis Terry
2016
April 12-17, 2016 – Las Vegas, NV
Romantic Times Convention- Rio Hotel & Casino : READERS, BLOGGERS, REVIEWERS, BOOKSELLERS and LIBRARIANS will all be in attendance, along with 800+ Authors. I'll be there doing panels and workshops, and don't forget the HUGE book fair on Saturday, all the info can be found here: https://www.rtconvention.com/
July 13-16, 2016 – San Diego, CA
Romance Writers of America – 36th Annual Conference
San Diego Marriott Marquis & Marina, Registration opens in 2016. More info to come.
September 22-25, 2016 – Spokane, WA
Historical Romance Retreat – A chance to step back in time with 30 of your favorite Historical Romance authors! Dinners, dancing, book signings, and more, all set in the beautiful and historic Davenport Hotel. Registration is limited to 300! – Register now!