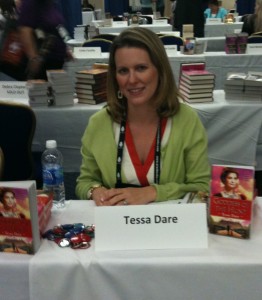 Tessa Dare is the New York Times and USA Today bestselling author of eleven historical romance novels and four novellas. Her books have won numerous accolades, including Romance Writers of America's prestigious RITA® award and multiple RT Book Reviews Reviewer's Choice Awards.  Booklist magazine named her one of the "new stars of historical romance," and her books have been contracted for translation in more than a dozen languages.
Mixing wit, sensuality, and emotion, Tessa writes Regency-set romance novels that feel relatable to modern readers. With her bestselling "Spindle Cove" series, she had great fun creating a fictional seaside community populated by women who defy the conventions of their time—engaging in such unladylike pursuits as medicine, geology, and artillery. And she had even more fun dreaming up the strong-willed, unsuspecting men who find their hearts ensnared by these unlikely heroines. The strong yet quirky heroines and sexy heroes continue in her all-new "Castles Ever After" series, launching in 2014.
A librarian by training and a booklover at heart, Tessa makes her home in Southern California, where she shares a cozy, cluttered bungalow with her husband, their two children, and a big brown dog.
Publicity Photos
Clicking on thumbnail will download the larger, high-resolution file.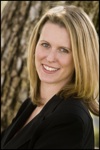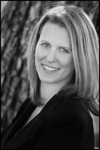 Photo credit: Raphael Maglonzo.
Book Signings & Appearances