Meet Tessa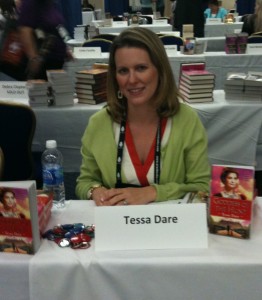 Tessa Dare is the New York Times and USA Today bestselling author of thirteen historical romance novels and four novellas. Her books have won numerous accolades, including Romance Writers of America's prestigious RITA® award and multiple RT Book Reviews Reviewer's Choice Awards.  Booklist magazine named her one of the "new stars of historical romance," and her books have been contracted for translation in more than a dozen languages.
Mixing wit, sensuality, and emotion, Tessa writes Regency-set romance novels that feel relatable to modern readers. With her bestselling "Spindle Cove" and "Castles Ever After" series, she has had great fun creating heroines who defy the conventions of their time—engaging in "unladylike" pursuits that range from paleontology to beer-making—and dreaming up the strong-willed, sexy heroes who find their hearts ensnared by them.
A librarian by training and a booklover at heart, Tessa makes her home in Southern California, where she lives with her husband, their two children, and a trio of cosmic kitties.
Publicity Photos
Clicking on thumbnail will download the larger, high-resolution file.
Photo credit: Raphael Maglonzo.
Book Signings & Appearances
2016
February 11, 2016 – Yorba Linda, CA
A Night of Romance at Yorba Linda Public Library: Thursday, February 11 • 7:00 p.m. "Join us as author Tessa Dare spends an evening speaking about her inspirations, the writing and publishing process, and her newest title When a Scot Ties the Knot (Castles Ever After Series). There will also be an opportunity to purchase titles for an author signing." More information.
February 20, 2016 – Brea, CA
The Brea Library cordially invites you to attend Love in the Stacks. This free romance writer and reader event will feature eight bestselling and emerging romance authors. Love in the Stacks will be held at the Brea Library on Saturday, February 20, 2016 from 11 AM – 2 PM and will include two moderated panels, one guest speaker, book signings, book sales and light refreshments. This event is presented by OC Public Libraries, Mystery Inc. Bookstore, and the Friends of the Brea Library. Featured romance authors include: Robin Bielman, Tessa Dare, Judy Duarte, Maggie Marr, Debra Mullins, Jane Porter, Charlene Sands, and Jill Sorenson. Details here.
March 5, 2016 – Culver City, CA
April 9-10, 2016 – Los Angeles, CA
LA Times Festival of Books – On the campus of USC.
Fiction: Romance Between the Covers
Sunday, 4/10/2016 @ 11:00:00 AM in Hoffman Hall
April 12-17, 2016 – Las Vegas, NV
Romantic Times Convention- Rio Hotel & Casino : READERS, BLOGGERS, REVIEWERS, BOOKSELLERS and LIBRARIANS will all be in attendance, along with 800+ Authors. I'll be there doing panels and workshops, and don't forget the HUGE book fair on Saturday, all the info can be found here: https://www.rtconvention.com/
July 13-16, 2016 – San Diego, CA
Romance Writers of America – 36th Annual Conference
San Diego Marriott Marquis & Marina, Registration opens in 2016. More info to come.
August 21, 2016 – Studio City, CA
Los Angeles Romance Authors – Bridges Academy- Published Author Chat: "Putting Your Own Spin on Your Subgenre" will be Tessa's topic. Attendance $5 for Members and $10 for Visitors. First Visit is FREE!
September 22-25, 2016 – Spokane, WA
Historical Romance Retreat – A chance to step back in time with 30 of your favorite Historical Romance authors! Dinners, dancing, book signings, and more, all set in the beautiful and historic Davenport Hotel. Registration is limited to 300! – Register now!