For Readers
Signed Bookplates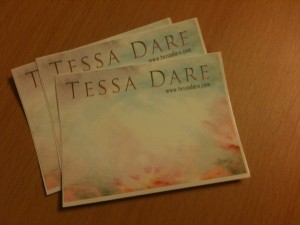 If you'd like your copy of my book autographed, but can't make it to one of my book signings, I would be glad to personalize, autograph, and send you an archival quality adhesive bookplate.
To request bookplates, please send a self-addressed envelope to:

Tessa Dare Bookplate
P.O. Box 6385
Fullerton, CA 92834-6385
Please allow a few weeks for return. Don't forget to include a note, telling me to whom you'd like it signed!