Quite a few of you lovely, lovely people have asked about the next book, and now that the book is actually written 8) I feel I can post a few tidbits of information. I should say that everything in this post is subject to change, as it's not yet set in stone. Once I have an official cover, blurb, and release date I will definitely create a proper page for the book in my Bookshelf section. For the meantime, here's what I can tell you.
The book will be almost probably certainly titled A Night to Surrender. It will most likely be released in early Fall of 2011, like August/September-ish. And it will most definitely have a gorgeous cover, if the preliminary artwork is any indication. I can't share it yet. Believe me, I want to.
Oh, I am weak. Maybe I can give you a just a teensy, tiny snippet?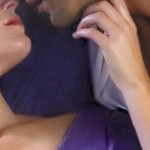 *siiiiigh*
The setting for this book (and the entire series) was partly inspired by the trip I took to England this past August. I spent most of my time on the coast of Sussex–Brighton, Hastings, Rye. The hero of the book, Victor Bramwell, is a war hero. He's been granted a revived medieval earldom, which includes a very un-revived medieval castle. Rycliff Castle, as it exists in the book, was loosely cobbled together from several sites I visited. One of them was Hastings Castle, pictured here.
*siiiiigh* some more. So lovely.
To go along with that, here's a … Read More »